Twenty-Something Crisis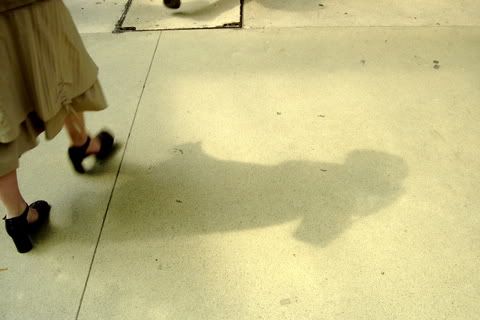 The Prologue:
Emily: So I'm writing a piece about the mid-twenty-something crisis.
Nico: Ems, your blog
is
the mid-twenty-something crisis.
The twenty-something crisis is defined as "the state of simultaneously wishing to be old (and therefore taken seriously in steps along the career path), coupled with intermittent pangs for a quickly disappearing youth."
Signs of the twenty-something crisis include: weekends spent at home in a bathrobe with a cup of coffee and a good book, followed by a brief panic that leads to a week of late-night drunkenness and shenanigans; simultaneous repulsion by and envy for a stable home; the constant tweaking of The Perfect Resumé; the constant fear of being seen by one's colleagues and clients in one's
natural state
; wistfully referring to, and attempts to recreate,
the college days
; general disdain for loafers and briefcases; idealization of high school and college romances; hangovers now related to bedtime and not to quantity of alcohol consumed; and, the phrase
pull it together
appearing as a priority item on to-do lists.

Part One: The Seeds of Dissent
My resistance to the twenty-something age can be traced back to high school. Former students would visit the school, and I could hardly believe that the few years that separated us could yield such a difference.
The women that returned were together, pretty. They had pocketbooks and heels. They tossed styled hair back over shoulders and spoke in a lower, more tempered voice. These women—the same that had come to high school dressed in baggy corduroys back when grunge was in style—now matched the throngs of black-panted twenty-somethings that swung their hips on the streets of
Buckhead
.

Part Two: Boot Camp
To convince the Working World that I belonged, I needed to make a few changes. The reality of the situation was that I looked about sixteen, but was getting ready to début as a teacher to businessmen and women in Paris. My preparation for the conversion was nil. I'd spent the summer at camp, often wearing my hair in braids and acting cool for fourteen year-old girls. One day, I happily realized that I was twenty-four years old, and was dressed like Mary-Kate Olsen. A less anorexic version.
So when I returned home in August, I had all of five days to become a professional businesswoman. Day five, my mother and I stood in the mall and assessed the collection of bags from the day's trip to the mall. Dress shirts? Check. Skirts and nice slacks? Check, check. Shoes? Check, check, check. All I was missing were pantyhose.
The process was complete. I'd spent the past few days arguing with various saleswomen, rejecting preppy, lilac tops that matched the fine stripes of a skirt, turning up my nose when presented with sweater sets, refusing to buy a blazer. When I'd walked into the store and requested something professional, the saleswomen had often and knowingly replied, "College interview?" My mother snapped back, "First real job. In Paris." Eyebrows shot up. Dollar signs appeared in their pupils. I frowned as I was thrown into the fitting room, but always left with a full bag.
I'd been to the beauty salon. I'd sat in the chair and firmly requested a hairstyle that could double as both professional and hip. (It turns out, there's no such thing. My new haircut shouted, "I'm thirty!") As I stood frowning at the makeup counter, my mother had explained, "We need to make her look older." Women gathered 'round. "It's all in the makeup." "It's all in the hair." By the time we had lunch, I was having a tough time concentrating on anything besides my reflection. I scrubbed my face with the paper napkin while my mom reassured me that she couldn't even tell I was wearing any make-up.
Part Three: The Crisis
There are things that simply cannot be taught. Take the erratic nature of hairdryers for an example. Soon into my stay, I'd already gone through two. One day, in a pinch, I borrowed Nicolas's landlord's drier. It, too, wheezed and overheated. My new salary was now devoted entirely to styling products. Try as I might, I couldn't figure out how to coif my new thirty-something hairdo.
I struggled with belts and roaming skirts and blisters from heels. I became that bad static-cling commercial. I spent afternoons on Nicolas's couch complaining about professional attire while he made me tea.
But then it happened. About two months into my new life, as I walked back from work, I caught sight of myself in a store window. All the signs were there. Black pants, sweater top. Straightened hair neatly pulled back in a neat ponytail. Fifties-style pea coat. High-heeled boots. In my grocery bag were wheat crackers, low-calorie breakfast bars, and a bottle of Diet Coke. Perhaps the only sign of my former self came in the form of an accessory: a bright red umbrella. My hopes were soon dashed when I realized that the umbrella matched my bag.
It hit me hard: Not only did I look like a twenty-something, I was twenty-four. I was a twenty-something.

Part Five: The Resistance
I immediately called Nicolas for support. I went over my plans for the week and concluded that I was still hip. The revolution was born.
I now allow myself ten minutes for pre-work primping. All attempts at blended foundation and blow-drying have been abandoned. Often, and I don't even shower for work. Some of you may be cringing, but I consider it my personal "screw you" to Corporate France. I can no longer find my button-down shirts and wear different t-shirts under the same black cardigan everyday.
I reassure myself that I'm different from my fellow twenty-somethings. I'm not married. I'm not in med school. My friends are dreamers. We drink cheap wine and argue. We sit on floor cushions and munch on cheese. We live in Paris. I am in no way boozing it up with my former sorority sisters.
True validation came a few weeks ago, when preparing for a day's work at The Bank for the Complicatedly Wealthy, I resuscitated a skirt from the fall. I rummaged through my closet to find a clean pair of hose. I found some, and tried one of the preferred methods of applying them to legs.
As I grabbed hold of a bunch and pulled them over hips, my middle finger punched through the material. I ripped them of and threw them in the trash. Found another pair. These ripped just below the knee because of a jagged nail. Found another pair. Ripped those on the second leg. Moved dirty clothes from closet to floor; I had no choice but to wear a dirty pair.
As it turns out, I no longer owned a pair of un-ripped hose. I smiled as I grabbed a pair of wrinkled pants. I was happy to ditch the skirt, and figured any twenty-something who actually has it together knows how to successfully put on a pair of hose.

Part Six: Peace Talks
Just this week, across the desk from a senior manager in his sixties, I chatted with a client. An intelligent man and well-spoken even in English, he'd taken to debating with me about politics during our bi-weekly conversation classes.
This particular day, he provoked me. I unprofessionally ended the class on a rant about American policy on AIDS in Africa, stuttering about the ridiculousness of promoting only abstinence, and not safe sex. The man didn't agree.
Before he left the room, he asked, "How old are you?"
I immediately blushed. My cover was blown, and it had nothing to do with my wrinkled pants. I shuffled through some papers and replied, "I don't see how that's relevant."
He thought for a moment and said, "I think you're twenty-seven. You have the education, but you don't have the experience."
Flustered by the low-blow, I stammered, "Well, my mother is older than me, and I bet she'd tell you the same thing." He smiled and closed the door behind him.
That's right, Emily, way to go. In defending my honor and maturity, I'd resorted to the comeback of a seven year-old, quoting her mother as the ultimate source of what's right.
As I sat in the empty conference room, I thought about what he'd said.
Twenty-seven
. Over mid-twenty. The twenty-somethings aren't fooling anyone with their slick dress and tempered speech, especially not this seasoned veteran. Twenty-something is nothing. Just wait 'til we've lived what he's been through: the mid-life crisis.