What's the opposite of Blackout?
The obvious answer to the question is Wite-Out, that gloppy liquid that smears over mistakes in a term papers. But let's be honest: the error is still usually visible, and the pen ink looks sloppy and shaky when written on unevenly applied Wite-Out. The future reader of that paper is going to think that the writer is either a) sloppy and lazy, or b) an environmentalist. Any way you cut it, Wite-Out is no good.
Wait -- that's not what this is all about. (Though, I'll tell you that as a one-time sloppy environmentalist, I tried to disguise my hand-writing as typeface, quite unsuccessfully.)
It's one year and one day after my last post, "Blackout," on Better Than Hamlet.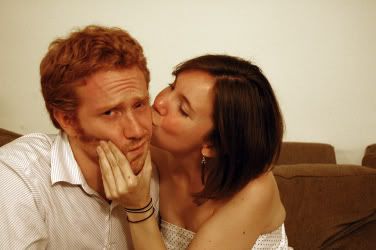 One year later, I find myself 26 years old, about 7 pounds heavier, and living with a boyfriend and two cats in Chicago, IL. I've spent a draining year chasing stories and learning about things like "winter" and "layering."
But Friday, I'll be back on a plane to Paris, France for a four-month stint with a news wire service. It never felt right to continue BTH while in Chicago...but I'm hoping Paris will provide me with four more months of post-worthy shenanigans. See you on the other side of the pond.
(PS. Life update for old readers -- While visiting Paris in the spring with my New Boyfriend, I ran into Mme Monnaie on the street, who asked about Matt. The lie continued, even while standing next to New Boyfriend, who was justifiably upset that I didn't take the time to break the age-old myth about my love affair with Matt. Later, I snuck up my old stairwell to show NB where I lived, and found that the doorknob to the old apartment had fallen off. Through the hole in the door, I discovered that I'd left my favorite dish towel behind! Other than that, no big news. Dishes, generally speaking, are still a major problem.)